Privacy Policy And Statement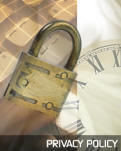 (last updated: July 2013) MacaPeru.com is committed to protecting your privacy. This applies to data collection and usage on A Healthy Alternative, LLC sites and services; it does not apply to other online or offline sites, products or services we may provide links to. Please read the below and also any supplementary information at the end of this statement for additional details about particular sites and services that you may use. MacaPeru.com is a general audience web site, intended for users of all ages. No Personal information of users is collected, used and disclosed as described in this Privacy Statement. Other services linked to from this site may have their own privacy statements which can be viewed by clicking on the links.
Collection of your Personal Information
At some sites, MacaPeru.com collects personal information, such as your e-mail address, name, home or work address or telephone number. MacaPeru.com keeps track of the pages our customers visit within MSN, in order to determine what MSN sites and services are the most popular.

MacaPeru.com may also collects certain information about your computer hardware and software. This information may include: your IP address, browser type, domain names, access times and referring Web site addresses to help prevent fraudulent purchases.
Use of your Personal Information
MacaPeru.com does not sell, rent or lease its customer lists to third parties. MacaPeru.com may, from time to time, contact you about a particular offering that may be of interest to you. In those cases, your personal information (e-mail, name, address, telephone number) is never transferred to the third party. Personal information collected on this site may be stored and processed in the United States or any other country in which MacaPeru.com or its affiliates, subsidiaries or agents maintain facilities, and by using this site, you consent to any such transfer of information outside of your country. MacaPeru.com abides by the safe harbor framework as set forth by the U.S. Department of Commerce regarding the collection, use, and retention of data from the European Union.
Control of your Personal Information
MacaPeru.com offers its customers choices for the collection, use and sharing of personal information. You may choose not to receive marketing material from MacaPeru.com. You may also stop the delivery of future promotional e-mail from MacaPeru.com by following the specific instructions in the e-mail you receive. The instructions explain how to stop receiving such e-mails.
Security of your Personal Information
MacaPeru.com is committed to protecting the security of your personal information. We use a variety of security technologies and procedures to help protect your personal information from unauthorized access, use, or disclosure. For example, we store the personal information you provide on computer systems with limited access, which are located in controlled facilities. When we transmit highly confidential information (such as a credit card number) over the Internet, we protect it through the use of encryption, such as the Secure Socket Layer (SSL) protocol.

Use of Cookies
MacaPeru.com does not use "cookies" on your online experience. A cookie is a text file that is placed on your hard disk by a Web page server. Cookies cannot be used to run programs or deliver viruses to your computer. Cookies are uniquely assigned to you, and can only be read by a web server in the domain that issued the cookie to you.
Enforcement of this Privacy Statement
If you have questions regarding this statement, you should first contact MacaPeru.com via e-mail.
Changes to this Statement
MacaPeru.com will occasionally update this to reflect company and customer feedback. When MacaPeru.com posts changes to this Statement, you will see the word "updated" next to the link on the front page of MacaPeru.com. If there are material changes to this Statement or in how MacaPeru.com will use your personal information, MacaPeru.com will prominently post such changes prior to implementing the change. MacaPeru.com encourages you to periodically review this Statement to be informed of how MacaPeru.com is protecting your information.
Contact Information
MacaPeru.com welcomes your comments regarding this Privacy Statement. If you believe that MacaPeru.com has not adhered to this Statement, please contact MacafromPeru@aol.com by e-mail.
---